Click & Collect - Check Stock at Your Local Shop Now
Keighley -

53 Cavendish St, Keighley BD21 3RB

- Closed

Otley -

23A Westgate, Otley LS21 3AT

- Safe Collection Time Available

Huddersfield -

Piazza centre, Huddersfield HD1 2RS

- Safe Collection Time Available

Halifax -

Wool shops shopping centre, Halifax HX1 1RU

- Safe Collection Time Availabler

Harrogate -

Victoria shopping centre, Harrogate HG1 1AE

- Safe Collection Time Available

Scarborough -

Brunswick Centre, Scarborough YO11 1UE

- Safe Collection Time Available

Blackpool -

73-75 Church St, Blackpool FY1 1HU

- Safe Collection Time Available

Kendal -

Westmorland shopping centre, Kendal LA9 4LR

- Safe Collection Time Available

Skipton -

Jerry Croft - Main Street Car Park

- Safe Collection Time Available

Darlington -

Cornmill Centre - DL1 1LT

- Safe Collection Time Available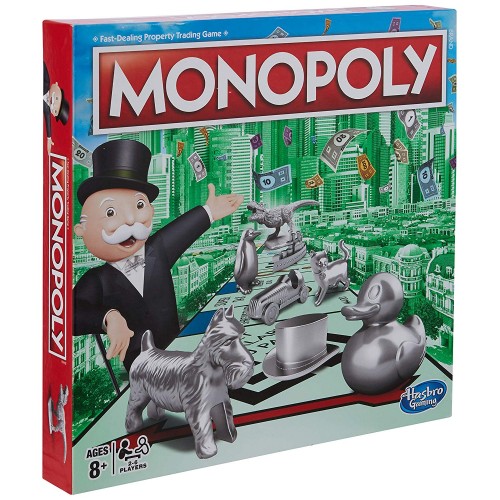 Thrill of bankrupting an opponent, but it pays to play nice, because fortunes could change with the roll of the dice. Experience the ups and downs by collecting property colours sets to build houses, and maybe even upgrading to a hotel. The more properties each player owns, the more rent can be charged. Chance cards could be worth money, or one might just say go to jail. The Hasbro Gaming and Monopoly names and logos, the distinctive design of the game board, the four corner squares, the Mr. Monopoly name and character, as well as each of the distinctive elements of the board and playing pieces are trademarks of Hasbro.

How much does UK delivery cost?
1-3 Business Day Delivery £3.99
Delivery in 1 to 3 working days (excluding weekends and bank holidays)
Click & Collect
Free
Collect from your local store in as little as 30 minutes*.

7 days a week during opening times.
Monopoly Classic Game