This product is available to reserve for collection instore within 1 hour!
Click & Collect - Check Stock at Your Local Shop Now
Keighley -

53 Cavendish St, Keighley BD21 3RB

- Reservation within 1 hour

Otley -

23A Westgate, Otley LS21 3AT

- Reservation within 1 hour

Huddersfield -

Piazza centre, Huddersfield HD1 2RS

- Reservation within 1 hour

Halifax -

Wool shops shopping centre, Halifax HX1 1RU

- Reservation within 1 hour

Harrogate -

Victoria shopping centre, Harrogate HG1 1AE

- Reservation within 1 hour

Scarborough -

Brunswick Centre, Scarborough YO11 1UE

- Reservation within 1 hour

Blackpool -

73-75 Church St, Blackpool FY1 1HU

- Reservation within 1 hour

Kendal -

Westmorland shopping centre, Kendal LA9 4LR

- Reservation within 1 hour

Skipton -

Jerry Croft - Main Street Car Park

- Reservation within 1 hour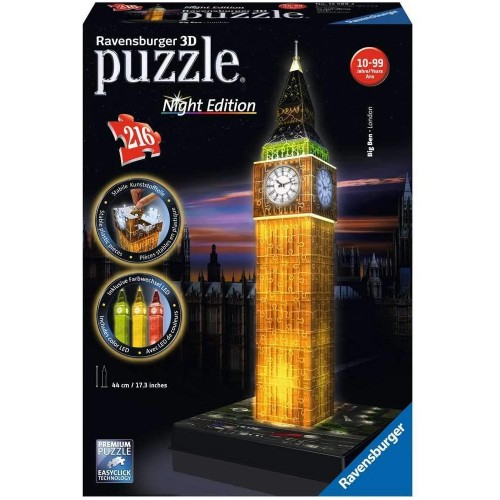 Utilising the latest 3D puzzle technology you can create this stunning 3D model of London's Big Ben. This "Night Edition" Big Ben 3D puzzle uses LED technology to create 2 different lighting effects. It can either be set to a steady warm white glow or can be set to alternating colours, continually switching between red, green, orange, light blue, dark blue, purple or yellow light. This automatic colour changing makes an effective and dramatic addition to any room or an ideal night light. The puzzle uses unique hinged plastic pieces, which slot together to build a sturdy and strong building and best of all no glue is required! The puzzle has 216 high quality plastic pieces and 3 additional pieces to build this excellent model. Each puzzle piece is printed with a number on the reverse side, so you can either assemble the puzzle by eye, or by following the numbers on the back. The puzzle comes with a printed base board, so it can be displayed on a shelf or table top. This model makes and ideal room decoration that you can build on your own or as a family. Collect all our 3D puzzles and create your own city Skyline! High quality 216 piece plastic jigsaw puzzle. The finished puzzle measures 40cm high when complete. Suitable for ages 10 years and up.
Ravensburger Big Ben - Night Edition, 216pc 3D Jigsaw Puzzle®