This product is available for reservation stock check within 1 hour!
Click & Collect - Check Stock at Your Local Shop Now
Keighley -

53 Cavendish St, Keighley BD21 3RB

- Closed

Otley -

23A Westgate, Otley LS21 3AT

- Safe Collection Time Available

Huddersfield -

Piazza centre, Huddersfield HD1 2RS

- Safe Collection Time Available

Halifax -

Wool shops shopping centre, Halifax HX1 1RU

- Safe Collection Time Availabler

Harrogate -

Victoria shopping centre, Harrogate HG1 1AE

- Safe Collection Time Available

Scarborough -

Brunswick Centre, Scarborough YO11 1UE

- Safe Collection Time Available

Blackpool -

73-75 Church St, Blackpool FY1 1HU

- Safe Collection Time Available

Kendal -

Westmorland shopping centre, Kendal LA9 4LR

- Safe Collection Time Available

Skipton -

Jerry Croft - Main Street Car Park

- Safe Collection Time Available

Darlington -

Cornmill Centre - DL1 1LT

- Safe Collection Time Available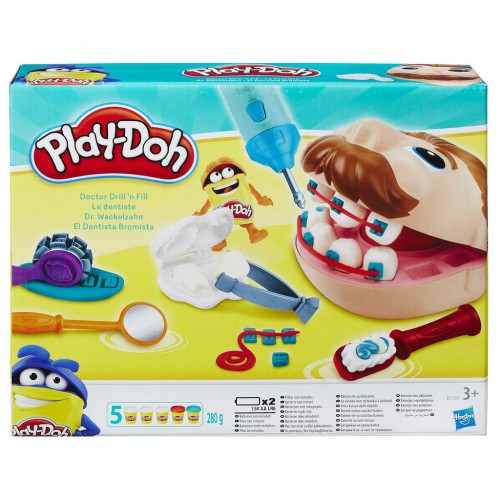 Includes:
Head, drill, tweezers, roller, toothbrush, tooth mould, accessory, instructions, and five cans of Play-Doh brand modelling compound.
Play-Doh Doctor Drill 'n Fill Set
Playing dentist is sure to create smiles again and again - literally! Kids can feel what it's like to be on the other side of the dentist chair with the classic Play-Doh Doctor Drill 'n Fill set. Shape some teeth, make braces, buzz the cavities away with the electric drill, and more!
Play dentist with the classic Play-Doh Doctor Drill 'n Fill set.

Keep the fun buzzing and fight Play-Doh cavities with the electric drill.

Create Play-Doh teeth with the tooth mould.

Roll braces with the stamping roller.

Squeeze pretend toothpaste through the toothbrush.









Ready to play dentist? Grab the tools and Play-Doh compound to get the appointment started! Shape a mouthful of teeth for Doctor Drill 'n Fill with the book-mould and Play-Doh compound. Squeeze colourful Play-Doh toothpaste through the toothbrush and pretend to keep the teeth squeaky clean. Got something stuck in between the teeth? Pull it out with the tweezers, then use the mirror to make sure all of the teeth are in perfect shape.

* Hasbro, Play-Doh and all related properties are trademarks of Hasbro.

This time, drilling the teeth is the best part of the dentist visit! Push the button on the electric drill to hear and feel it buzz. Stick it into a Play-Doh tooth to drill a hole big or small, and even make fillings for the cavities. After that procedure, it's time for braces! Use the roller to stamp individual braces, add them to each tooth, and then roll a thin Play-Doh wire to hold it all together. Now that's sure to make the patient smile!

Inside every kid is an uninhibited explorer, a future leader, and an original creator. And inside every colourful, squishy ball of Play-Doh compound is an irresistible invitation for hands-on exploration. Coincidence? Definitely not. That's because Play-Doh toys give kids the power to shape their own stories in their own way, and there's always an adventure, a masterpiece, or a gigglefest waiting to happen!
Hasbro Legal Disclaimer:
We endeavour to provide accurate information, but the products, names, colours and materials are subject to change without notice. Many of our products, including the designs and features contained therein, are protected by trademarks, patents and/or copyrights. Appropriate legal action will be taken against infringers of these rights.
For ages 3 years and up.

Requires 2 AA batteries (not included).

Notice to Parents: Contains Wheat.

Compound not intended to be eaten.

Adult assembly required.
Play-Doh Doctor Drill 'n Fill