Click & Collect - Check Stock at Your Local Shop Now
Keighley -

53 Cavendish St, Keighley BD21 3RB

- Closed

Otley -

23A Westgate, Otley LS21 3AT

- Safe Collection Time Available

Huddersfield -

Piazza centre, Huddersfield HD1 2RS

- Safe Collection Time Available

Halifax -

Wool shops shopping centre, Halifax HX1 1RU

- Safe Collection Time Availabler

Harrogate -

Victoria shopping centre, Harrogate HG1 1AE

- Safe Collection Time Available

Scarborough -

Brunswick Centre, Scarborough YO11 1UE

- Safe Collection Time Available

Blackpool -

73-75 Church St, Blackpool FY1 1HU

- Safe Collection Time Available

Kendal -

Westmorland shopping centre, Kendal LA9 4LR

- Safe Collection Time Available

Skipton -

Jerry Croft - Main Street Car Park

- Safe Collection Time Available

Darlington -

Cornmill Centre - DL1 1LT

- Safe Collection Time Available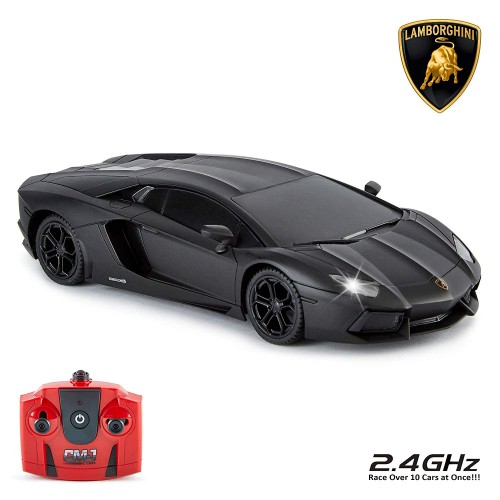 Lamborghini Aventador Matte Black Radio Remote Controlled Model Car 1:24 Scale
One of our range of 9 Remote Control Cars at 1:24 scale.
Other models available:
Range Rover Sport White or Red

Audi R8 GT Matte Black or Red

Mini Countryman Cooper S All4 Red

Porsche 911 GT3 White

Lamborghini Aventador Orange.

McLaren 675 LT Gold
These cars are officially licensed replicas, perfect for racing as they run on a frequency of 2.4 Ghz so can be raced against each other without interference.
Speed 8-10 mph.
Superb, realistic detail including working xenon style LED headlights, adjustable wheel alignment & full spring suspension.
These fully functional toys are easy to use, come factory assembled and ready to run, just add batteries.
Realistic Xenon Style Headlights & Functions
Bright LED xenon style headlights.

Perfect for night time RC car racing!

Race with any other remote control car.

Full spring suspension & adjustable wheel alignment.

Durable. Built with crash resistant material.
Officially Licensed 1:24 Scale Replica Models with Stunning Detail
1:24 Scale replica models, officially licensed. (Lamborghini approx 19 x 9.6 x 4.8 cm).

Comprehensive replica models, true to the original vehicle.

Outstanding detailing: rims, moulded rubber tyres.

Authentic showroom bright paint finish.

Perfect gift for kids ages 6+. Girls, Boys & adults alike will get hours of fun from these RC Cars.
Race More Than 10 Cars Together
These remote control cars run on a 2.4Ghz frequency.

This means that more than 10 can be raced together without interference. This is not possible when buying cars on 27Mhz or 40Mhz (which is the normal standard).

The perfect gift or gift for two, three, four or more than ten!
Easy to Control, Responsive Cars
The controller is straightforward to use and can be operated up to a huge 25 Metres away.

Fully functioning RC car including working LED lights, forward, reverse, stop, left and right.

Max Speed 10 mph.

Run well on any flat even surface, including short pile carpet.

Show off your driving skills with these toy cars indoors or outdoors.

Impress friends with superb cornering, J-Turns and Drifts to a stop.
Ready To Use: Just Add Batteries
Ready to use straight out of the box.

Just add 5 x AA batteries- 2 for the controller and 3 for the car itself (not included).

No assembly required- remove the carriage screws by hand and with small Phillips/Positive Screwdriver remove the controller, back panel and car panel to insert the batteries. You don't even have to screw in an aerial!

The better the batteries the faster the car will go.
How much does UK delivery cost?
1-3 Business Day Delivery £3.99
Delivery in 1 to 3 working days (excluding weekends and bank holidays)
Click & Collect
Free
Collect from your local store in as little as 30 minutes*.

7 days a week during opening times.
Lamborghini Aventador