Click & Collect - Check Stock at Your Local Shop Now
Keighley -

53 Cavendish St, Keighley BD21 3RB

- Closed

Otley -

23A Westgate, Otley LS21 3AT

- Safe Collection Time Available

Huddersfield -

Piazza centre, Huddersfield HD1 2RS

- Safe Collection Time Available

Halifax -

Wool shops shopping centre, Halifax HX1 1RU

- Safe Collection Time Availabler

Harrogate -

Victoria shopping centre, Harrogate HG1 1AE

- Safe Collection Time Available

Scarborough -

Brunswick Centre, Scarborough YO11 1UE

- Safe Collection Time Available

Blackpool -

73-75 Church St, Blackpool FY1 1HU

- Safe Collection Time Available

Kendal -

Westmorland shopping centre, Kendal LA9 4LR

- Safe Collection Time Available

Skipton -

Jerry Croft - Main Street Car Park

- Safe Collection Time Available

Darlington -

Cornmill Centre - DL1 1LT

- Safe Collection Time Available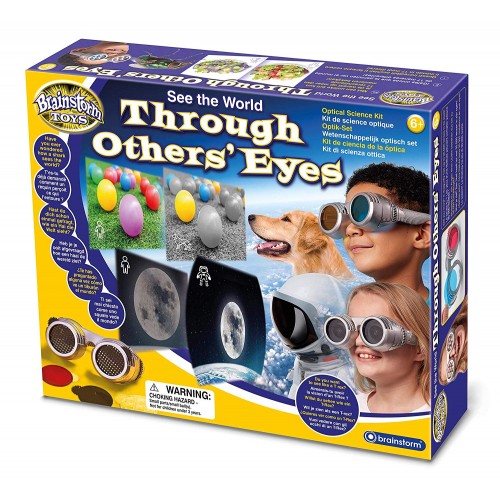 What does the world look like if you are a baby? How does a cuttlefish see it's underwater world? Just pop on these cool glasses and you will see the world through others' eyes! 22 interchangeable lenses allow you to see in more than 17 different ways – or create your own! Lenses include wide angle, coloured, polarised, split vision, faceted, spectrum and more. Did you know that a dragonfly has up to 30, 000 lenses in its eyes! Did you know that an ostrich's eye is bigger than its brain! Learn about the science of sight with this Informative, full-of-facts leaflet. Includes fascinating information about seeing like a rat, eagle, bee and more. Brainstorm Toys is a range of fun, educational and interactive STEM toys that brings together a host of fascinating items. STEM toys incorporate science, technology, engineering and maths and encourage children to explore and develop a passion for these subjects. The aim of Brainstorm Toys branded products is to entertain children but also to inspire them to learn more about their environment.

How much does UK delivery cost?
1-3 Business Day Delivery £3.99
Delivery in 1 to 3 working days (excluding weekends and bank holidays)
Click & Collect
Free
Collect from your local store in as little as 30 minutes*.

7 days a week during opening times.
SEE THE WORLD OTHERS EYES